Customer Records
From time to time you may need to view all messages that have been received from or sent to your customers.
MyRound keeps a record of all customer interactions for a period of 28 days, after which the message history is removed.
Your customer records are kept separately from the Track and Trace registration details.
You can access all your customer records from the customer's menu option

Alternatively, the mobile number in the main orders' page acts as a link directly to the customer details page.

You can either search for all customers that have used the service between two dates, or narrow the search by entering a customer's mobile number.

Click view to see the customer's order history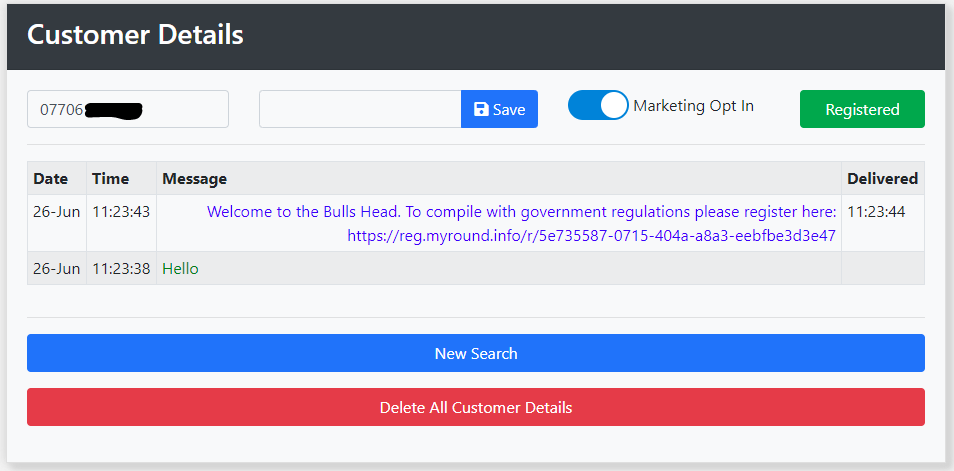 Customer's Name
If you happen to know the customer's name, you can save that against their record. All future orders will then then be displayed with that customer's name rather than just his or her mobile number.
Marketing
If you are using the contact options available, you can manually subscribe or unsubscribe from future marketing broadcasts.
Registered
If the button is green, the customer has registered his or her details with the track and trace system. If it's red no contact details have been submitted by the customer.
Message History
All messages for the past 28 days are displayed along with details, including the 'Received Time', 'Send Time' and the 'Delivered Time'. If messages are highlighted in red, they have failed to be delivered.
Delete Customer
Customers have the right to be 'forgotten' (GDPR rules). You can remove a customer's number from your system together with any messages sent and received. There is no 'undo' for this option.
'Delete Customer' does not remove the customer's details from the Track and Trace registration database. These records are automatically deleted after 21 days.
---
---