Order Details Page
The order details page allows you to manage all aspects of each customer's order: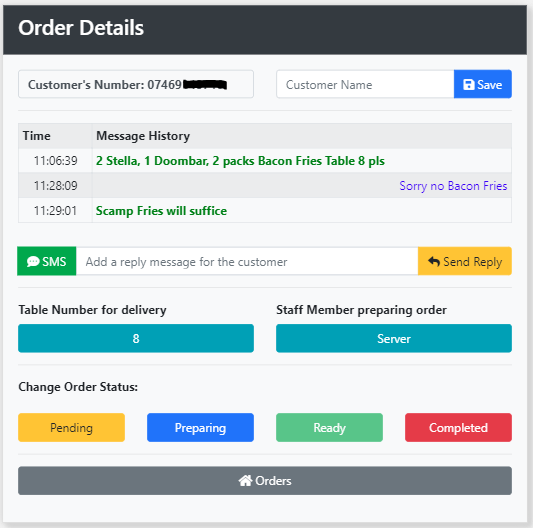 Customer Name
It can help you associate regular customer's names with their mobile numbers.
Message History
This details all the messages sent and received in an order. Messages from the customer are in green and aligned to the left. Replies sent are in blue and aligned to the right. Messages in red show that they haven't yet been delivered to the customer's mobile.
Reply Messages

You can send a reply by typing it into the reply box and then clicking Send Reply. Alternatively, you can configure standard replies and select them from the list displayed after clicking SMS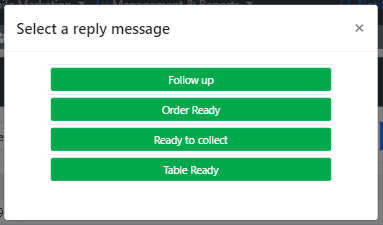 Table & Waiting Staff

The system will look for any table numbers given by the customer in their text message. If a number is found, MyRound will automatically assign the customer order to that table. If no table number is located, you can select a table manually.
To assist multiple bar staff dealing with different orders, each customer order can be assigned to a member of staff to prepare and/or deliver. To select a server for each order click Server and choose that server's name from the list. See assigning staff to orders.
Order Status
To actively assist waiting and bar staff manage the progress of customers' orders effectively, MyRound can assign a status to each order.

This facility doesn't have to be used. However, we would suggest that orders are marked as 'Completed' once they have been collected or delivered. If this is done, any future orders from customers will be shown separately. As a result, there is no opportunity for any confusion over what has or has not been ordered.
Return to Orders Page
After a minute of inactivity, the system will automatically return to the 'Orders' page to check for any new requests. To return manually just click 'Orders'.

---
---