Order Page
All messages from customers are displayed in the main 'Orders' page: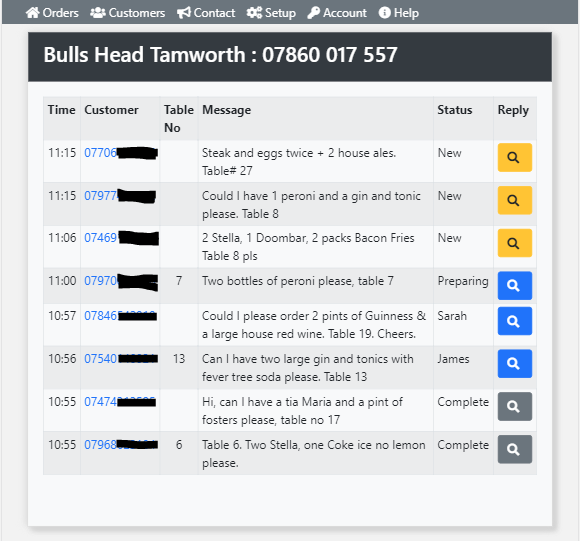 Time
This is the time that the first message of an order is received. If a customer adds further requests to an order, the time will not be updated. Orders can, therefore, be dealt with on a first-come first-serve basis.
Customer
This displays either the customer's number or name. If you know the customer, you can update your records with his or her name for ease of identification. Once updated in this way, the customer's name will appear in the Orders page.
Table No.
The system will look at any messages received, and if it detects the word table (or 'tbl') in the message, it will then allocate the order to that number. Alternatively, the table can be selected from a list in the Order page.
Message
All messages received from customers are shown here (even if a new message has been sent). Once an order has been completed, further messages from a customer create a new order.
Replies are shown in bold, so SMS 'conversations' can be clearly seen.
Status
You can change the status of orders to keep track of their progress and to see which member of staff is dealing with a particular order. As orders arrive in they are given the status 'New', coloured in yellow. If the order is in the process of being prepared or delivered then it is highlighted in blue.
If you are using a collection service orders are marked as 'Ready'. Completed orders are greyed out.
Select the reply button to view the order details
---
---